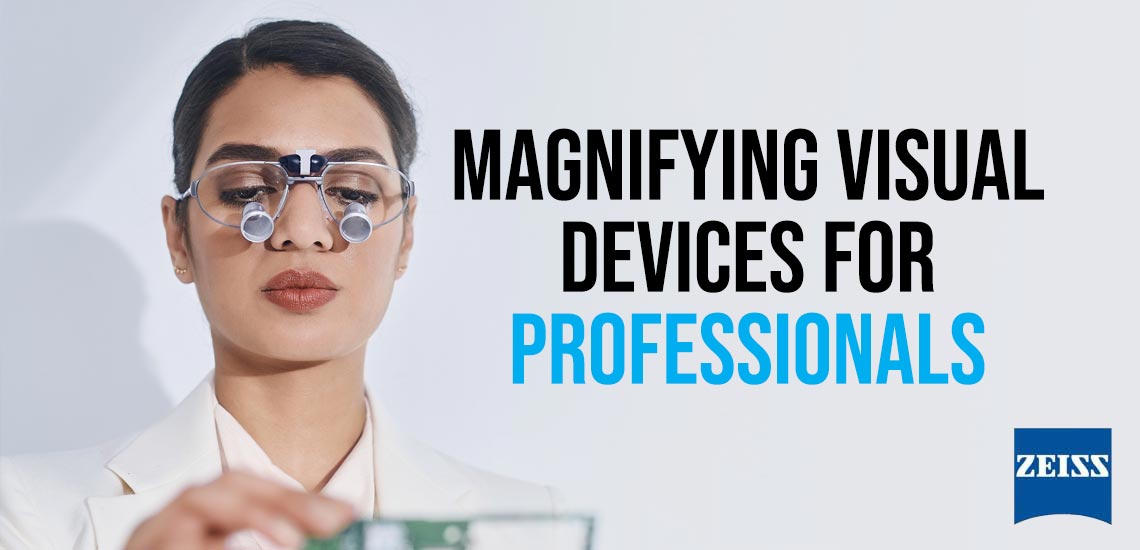 The GTX spectacle loupes are expertly fitted for each individual wearer by our registered Dispensing Optician. They are used for binocular, stereoscopic near vision in dentistry, medicine and technology.
---
The GTX 2x & 2.5x feature some outstanding benefits.
They are fitted almost like a normal pair of spectacles.
Both short-sightedness (myopia) and farsightedness (hyperopia) can be corrected.
Objects in the close-up range are seen stereoscopically with either 2x or 2.5x magnification options.
The Teleloupe GTX systems are available with several fixed working distances between 300 and 500 mm.
Download Zeiss Loupe Brochure Make an Enquiry
---
The loupes can be fitted to a Zeiss titanium frame with headband or to a frame of your choice subject to certain fitting requirements. The carrier lenses can incorporate a spectacle prescription if required.The GTX spectacle loupes can also be equipped with the Eyemag Light II LED System. This allows an ideal, very easy combination of magnification and illumination.
Technical data
| | | | |
| --- | --- | --- | --- |
| Magnification | Working distance from the eye | Free object distance | Field of view |
| 2x | 500mm | 465mm | 84mm |
| 2x | 450mm | 415mm | 76mm |
| 2x | 400 mm | 365mm | 68mm |
| 2x | 350 mm | 315mm | 60mm |
| 2x | 300 mm | 265mm | 52mm |
| 2.5x | 450 mm | 413mm | 72mm |
| 2.5x | 400 mm | 363mm | 64mm |
| 2.5x | 350 mm | 313mm | 57mm  |
View Zeiss Products
Share this page