Compact and powerful. The Eyemag Light II LED is the perfect complement to all the head and spectacle mounted loupe systems from Carl Zeiss Vision.
---
The powerful lighting of the EyeMag Light II from ZEISS maximises illumination intensity for fine detail recognition. Combined with high-quality ZEISS loupes, the LED illumination provides a sharp, unaltered view of minute details and structures thanks to its close resemblance to daylight and even distribution of light.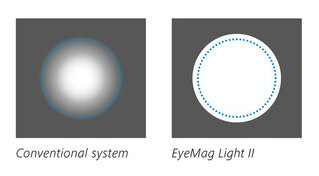 Two powerful rechargeable battery packs and a charging cradle are part of the standard package allowing practically interruption-free work 24/7.
Unlike illumination with conventional lens configurations, EyeMag Light II, with its clearly defined illuminated field, offers even and powerful illumination across the entire field of view of your ZEISS loupes.
The compact, portable, and ergonomic design optimises comfort for daily use across a wide range of procedures. 
---
Standard delivery package of EyeMag Light II
Bulb housing: Powerful LED light source with integrated temperature control
Control unit : With 3-step intensity control, charge level indicator and belt clip
Adapter for Zeiss loupes: To attach the EyeMag Light II LED illumination to GTX, G 2.5 TTL, KF/KS and K Bino TTL
Cable clip: To connect the lamp cable to the carrier
Soft case: High-quality, shock-proof protection for your light source and accessories
Orange filter: Swing-in orange filter for EyeMag Light II prevents premature curing of composite materials (for dental application)
Light intensity: Up to 50,000 Lux (at distance of 300 mm)
Typical colour temperature: Resembles daylight (approx. 5,700 Kelvin)
Weight of illumination head: 19 g (0.6 oz)
2 batteries: 2 medical grade lithium-ion smart batteries for fast charging
Battery charger: Processor controlled with country-specific power adapter
Operating time: Thanks to their short charge times the two battery packs enable continuous usage of the light during the entire workday
View Zeiss Products
Share this page