High resolution prismatic loupes with excellent optical qualities for 3.5x magnification and higher.
---
Advanced optical design ensures a wide field of view and a great depth of field even at high magnification, avoiding eye strain over extended periods of use.
HRP loupes are recommended for fine surgical procedures where high magnification is necessary, for example in endodontal, vascular, neuro, and orthopaedic surgery and for intricate work in jewellery and engraving.
---
Achromatic optics for crisp, bright images from edge-to-edge.
Lightweight (85g).
Water-resistant.
Independent adjustment of left and right optics for perfect PD adjustment.
High magnification: Choice of 3.5x, 4x and 6x.
i-View loupe mount provides any angle of view and flips up the optics independently of the optional LED LoupeLight2.
5 years guarantee
---
HRP Specifications
| | | | |
| --- | --- | --- | --- |
| Working distance | 3.5x/420mm | 4x/340mm | 6x/340mm |
| Field of view | 65mm | 50mm | 40mm |
| Depth of view | 60mm | 40mm | 30mm |
Mounting Options
Heine S-Frame
Maximum comfort with a modern, ergonomic design.
Malleable temples and nosepad can be customised to fit any face perfectly.
Innovative materials – Carbon-Kinetium reduces weight (24g).
Tough polycarbonate protective lenses.
Optional clip-in correction frame for prescription lenses.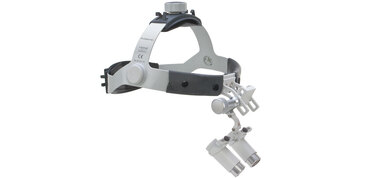 Heine Professional L Headband
Comfortable over longer periods for fatigue-free work.
Ideal for spectacle-wearers in combination with their own spectacles.
Fully-adjustable for height and width to fit any head.
Hygienic and comfortable leather head protection.
Download Heine Loupe Brochure Make an Enquiry
View Heine Products
Share this page